My family and I went to First Monday Trade Days in Canton, Texas this past weekend and I wanted to share my experience with you and give you some tips in case you ever want to visit this awesome shopping trip!  I absolutely LOVE First Monday – So much so that my family and I have gone around twice a year for the past 4 to 5 years.  We have encountered a tornado, scorching temps, freezing temps, and everything in between!  Therefore, we have narrowed down the best times of the year to attend – March or April and September or October!  If you plan to attend, take my advice!  Don't go in the scorching hot months (a lot of vendors are outside and the others are in metal buildings that are mostly un-air conditioned!) or the freezing months.  You will suffer!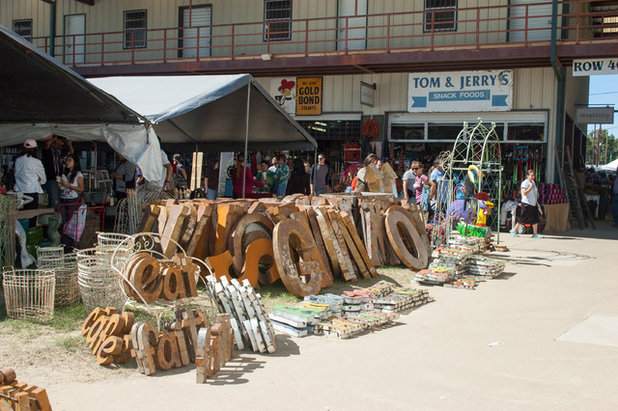 Anyway, we typically rent an RV space and "glamp" while on the grounds.  They do have a few hotels, Bed and Breakfasts, and rentals, but staying ON the grounds is by far the easiest thing, in my opinion.  All you have to do is walk a few steps from the RV park and you are already shopping (Hey!  I am a girl who loves to shop!), not to mention, when you fill up your shopping bags you can walk back to the camper for a rest and to drop off your items.  Win-Win!
Now, I am going to give you a few tips for traveling to and enjoying yourself while in Canton, TX, but these tips can apply to any "glamping" trip and/or any trip that involves a lot of walking (Disney World?).
 

Choose the right time of year for your trip!

  As I stated before, we have learned when the best and worst times of year for this type of vacation.  We will always avoid tornado season, the hottest months, and the coldest months.  Figure out what you and your family can handle and plan accordingly.  Still, no matter which month you choose, Mother Nature can rear her ugly head and, again, preparation is key.  Keep the following packed in your car, camper, or suitcase:
Rain Jacket!  I love this one from Amazon.  It comes in sizes S-XXL and in a variety           of cool color combos.
Hat or Beanie.  Depending on the time of year, be sure to pack some sort of head                cover that will protect you from sun, wind, or cold.  You can find the sunhat I have            here and the beanie I have here.
  Sunglasses.  Don't forget your shades!!
Sunscreen.  Not only is this the healthy thing to do, it's the smartest!  You can get a            sunburn before you know it while strolling outside shopping or having fun!
2.  Bring a stroller or wagon for the kids!  My kids are famous for getting tired of                     walking quickly so I swear by a fold up wagon that is easy to pull out and put up.  I             purchased a new one for this year's trip to Canton-because the forecast included                 rain- and I ended up getting stopped dozens of times by moms who wanted to know           where I got it from!  It has a detachable canopy, storage compartments for you                     phone, keys, and/or wallet, and lip gloss (the necessities) and it comes with an ice               chest!  PLUS, you can push it like a stroller or pull it like a wagon.  It is PERFECT                 and AMAZING!    So… here it is!!  Get yours here!
3.   Don't forget snacks!  If your kids are like mine, they can eat you out of house and                home!  I always pack a variety of snacks to keep my kids satiated – fruit snacks,                    oranges, peanut butter crackers, cookies in snack-sized packs, juice boxes, and                    water!  This should also save you some money, too, as most of the food inside the                parks are highly priced.  Don't get me wrong, we do partake in the occasional ice                cream, french fry, and cotton candy vendor, but in between these splurges we are              all set!
4.   Bring another form of entertainment.  Unlike mommy, my kids tire of shopping                   eventually so I always have a few books and a tablet (We have the Amazon Fire)                 available for them.  I also make sure to have a blanket, pillow, and stuffed                             animal on board my wagon for when the sleeping bug hits!
5.  Devise a plan of attack.  We always decide where to begin our shopping and where to        end it, so we don't miss out on anything.  This applies to wherever you are vacaying!          Having an itinerary will keep you organized and stress-free for the trip.  Below is the        layout we used for the trade days this past weekend.  We always refer to it once we            have completed a building and decide where to go next! 
6.  Bring a bag or storage stroller!  I was lucky enough to have my friend, Pam, make me        a huge shoulder bag that was perfect for storing our purchases!  But, if you aren't              that lucky, you can just purchase one of the many reusable bags that are on the                 market now or they even have cute little push carts available that are great.                         Unfortunately, I only have two hands (to push a wagon with) so a shoulder bag makes       more sense for me.  If you will not be traveling with kids or you have a friend who             can push this cart for you both, I highly recommend it!  You can even purchase a liner      and other cute accessories for it!
7.  Wear comfortable shoes and clothing!  Prepare for walking!!  We typically walk                   around 4 miles a day while in Canton, so I always wear tennis shoes and leggings.               Jeans may tend to chafe and heels are impractical!
And…that's it!  I hope these tips help you on your next family trip!  If you have any other suggestions that I missed, please, please leave them in the comments!!  I would love to hear them!
Until next time!
Love,
Erin Sharplin Love