ORGANIZE WITH EVERYDAY ITEMS!
Sometimes it takes just a little thinking outside the box to come up with great organizing ideas!  The funny thing is that some of the most inconspicuos pieces can be perfect!  Check out my finds below:
  A peg coat rack can be utilzed as a jewlery organizer!  I have one of these that was given to me as a gift and it took me a while to figure out what to do with it!  I didn't need a coat rack!  If you want to hide it, mount it inside a closet door.  This can also double as a belt rack! 
  Nail polish is a great key-coder!  I always get my keys confused so when I ran across this tip in Real Simple Magazine I wondered why I didn't think of it myself! 
 Tall clear vase as a toilet paper holder!  I use this alot!!  These tall vases are extremely inexpensive (especially at Hobby Lobby) and can be decorated, too!  This is such a modern take on the toilet paper holder that it now looks cool to display your toilet paper!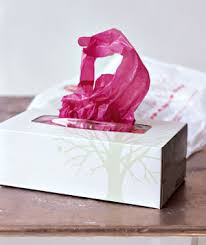 I try not to accumulate too many plastic bags, but I inevitably do.  The good thing is that they can be easily stuffed into a tissue paper dispenser for easier use and as a space saver!  I like to use decorative tissue paper dispensers, not just the cardboard kind you buy from WalMart. 
Do you have an everyday item that you've converted into an organizing product?  If so, please let me know!
Erin Sharplin Love